Just imagine not looking at a roof with bitumen or pebbles anymore, but looking at a living natural green roof. It may be a wonderful view, but it also needs to be waterproof. This is why we build green roofs professionally and use only tried and tested materials. We apply several layers on the existing roof such as a root barrier layer, a drainage layer, filter fabric, substrate and, finally, the growing medium. The final result is fabulous. There is nothing better than a green roof.
Apart from attractive vegetation, green roofs have many more advantages. Some of these are listed below.
The advantages of a green roof
Light weight (approx. 65 to 110 kg per m2 when saturated)
Longer life of roof (20 to 30 years)
Cooler in summer (about 6 to 7 degrees Celsius)
Subsidies (varies by municipality, but subsidies start at 40% of the total)
Reduces pressure on rain water drainage (reduces drainage by about 50%)
Contributes to a greener living environment
Wide range of suitable plants creating aesthetic qualities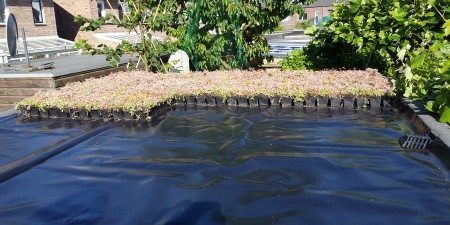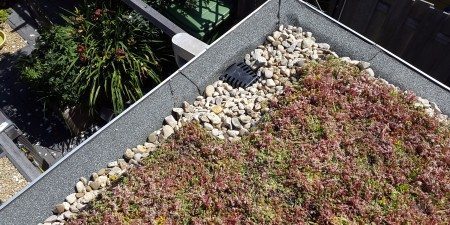 Are all roofs suitable?
Almost all roofs are suitable. The only roofs that are not suitable are those that slant more than 45°. If you want to know if your roof is suitable, let us know. We will check your roof so that we are sure that it is both suitable and in good condition.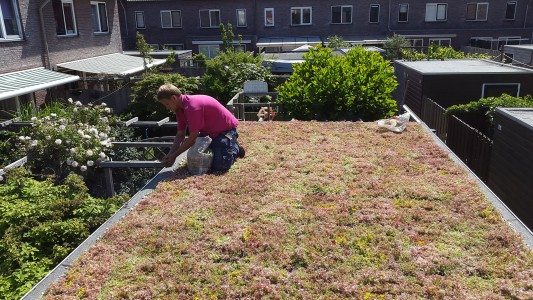 What plants are suitable for a green roof?
The vegetation mats that we use are fully planted so that, once installed, you can enjoy your green roof immediately. The plants are from the Sedum family. Each mat contains a mix of Sedum varieties so that the colours on the roof are a sight to behold. But there are also themed vegetation mats such as wild flowers, grasses, bees and butterflies, shadow, yellow flowers, pink flowers and white flowers. The plants can tolerate drought and absorb a lot of water. This makes them perfect to grow and bloom on your roof!
If you are interested in a green roof, please contact us.